Chinese New Year 2022
When and what is Chinese New Year? Chinese New Year begins Tuesday, February 1, 2022, and lasts until the following full moon. It is known as Spring Festival or sometimes called Lunar New Year because the dates of celebration follow the phases of the moon. The origin of the Chinese New Year is steeped in a legend. The legend was about a monster named Nian ("Year") who would attack villagers at the beginning of each new year. The monster was afraid of loud noises, bright lights, and the color red, so those things were used to chase the beast away. People use firecrackers, fireworks, red clothes, and decorations to usher out the old year and bring forth the good luck and prosperity of the new one. Young people are given money in colorful red envelopes. Among other Chinese New Year traditions, one is thoroughly cleaning your home to get rid of the resident of any lingering bad luck. Most importantly, Chinese New Year is a time to feast and visit family members.
The Tiger ranks third among the animals of the Chinese zodiac. The 12 zodiac animals are, in order: Rat, Ox, Tiger, Rabbit, Dragon, Snake, Horse, Goat, Monkey, Rooster, Dog, and Pig. Each year is related to an animal sign according to a 12-year-cycle.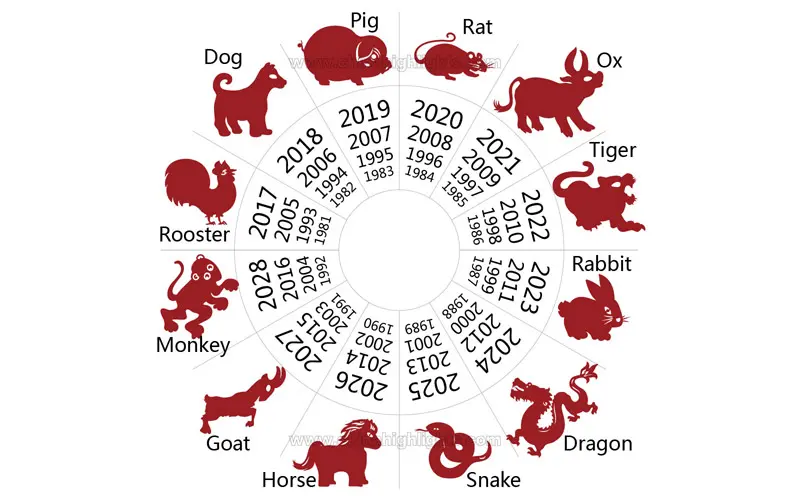 If you were born in the year of the tiger then here are some insights for you:
People born in a year of the Tiger are brave, competitive, unpredictable, and confident. They are very charming and well-liked by others. But sometimes they are likely to be impetuous, irritable, and overindulgent.
Things that will bring Tigers luck:
Lucky numbers: 1, 3, and 4 and numbers containing them (like 13 and 43)
Lucky days: the 16th and 27th of any Chinese lunar month
Lucky colors: blue, gray, orange
Lucky flowers: yellow lily, cineraria
Lucky direction: east, north, south
Lucky months: the 3rd, 7th, and 10th Chinese lunar months.
Things that Tigers should avoid:
Unlucky numbers: 6, 7, and 8 and numbers containing them (like 67 and 87)
Unlucky color: brown
Unlucky direction: southwest
Unlucky months: the 1st, 4th, 5th, and 11th Chinese lunar months