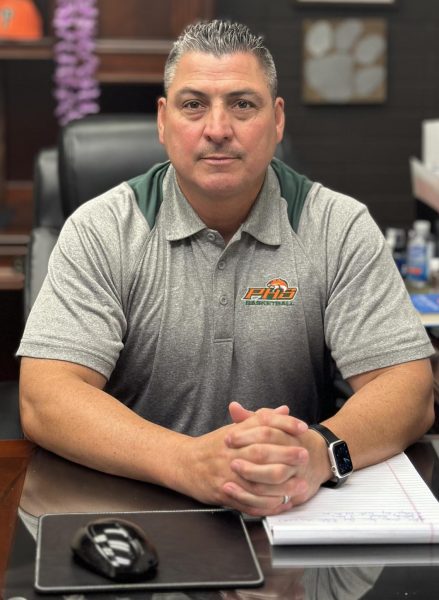 In this week's edition of the Orange and Green, we are delighted to share that Mr. Valdez recently beat Mr. David Herrera and Mr. Brian Hill at golf. We sat down with Mr. Valdez to get the inside scoop, and he shared that he beat our very own golf coach of 12 years.
Mr. Valdez said, "I was very excited to beat our golf coach. I'm very proud that I, the principal, beat the golf coach." We interviewed Mr. David Herrera to get an official statement from him about the huge loss. Mr. Herrera said, "I think golf isn't about who wins and loses, but it's a self-assessment on yourself, and I'm totally going to beat him soon. But it doesn't matter that I lost; it's a good lesson for yourself. I had bought new equipment for this particular game and I lost, so my wife is mad at me. But it's okay, because there is always next time." Mr. Valdez also let us know that he beat Mr. Brian Hill, our Athletic Director. Of the situation, Mr. Brian Hill said, "I didn't mind Mr. Valdez beating me at golf because he golfs all the time, and I don't, but I'm totally going to beat him next time."
So, Panthers, it looks like we must officially declare Mr. Valdez the reigning golf champion of the Porterville High School staff.
Catch you next time with another PHS Staff EXTRA! Scoop,
XOXO O&G Staff