The Granite Bowl & The Rock
The 53rd Annual "Granite Bowl" is upon us. First called "The Porterville City Championship Classic" this crosstown match-up was played for the first time in the Fall of 1969, as Monache boasted their first year with seniors. But how did this rivalry game come about? Where did the trophy come from that the winner takes for the year, and what is it?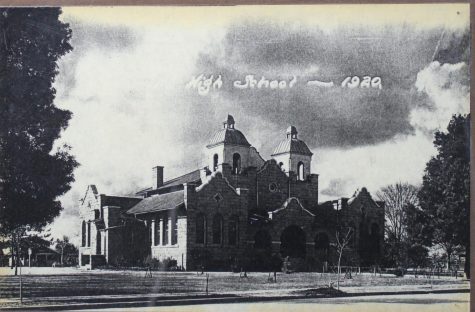 The idea of having a perpetual trophy, now affectionately called "The Rock" was developed by the students of Porterville and Monache with the help of the KTIP radio station, and Gateway Broadcasters. It was eventually decided that a granite cornerstone from the original Porterville High School, located where Belleview School now stands, would be used to create the trophy. Adrian Green, a sculptor from Three Rivers was commissioned by KTIP to carve a football player out of the granite cornerstone. The sculpture depicts a football player, holding a football over his head. A fallen redwood tree retrieved from the Kaweah river during the flooding of 1969 creates the base of the trophy and has a metal "M" or "P" mounted on the trunk for each win the school has had. Each year the winner of The Granite Bowl takes possession of the trophy and displays it in their administration office. 
"
…under normal conditions could be construed to predict a winner, but it's PRIDE and SPIRIT… human electricity that generates within each team and throughout the stadium the emotional catalysts that defy predictability.
— Mrs. Sally DePaoli, Orange & Green Adviser 1973
From the first game played in the Fall of 1969, the contests that have taken place between these two teams during this competition have defied statistics and previous records. In the Fall of 1969, the Panthers, bound for their 3rd consecutive CYL championship, defeated the first-year CYL Marauder team 22-6. Monache then went on to dominate the matchup for the next two years, but in the Fall of 1973, the Panthers were ready and took back "The Rock".
The Orange & Green Adviser at the time the Granite Bowl and its trophy originated, Mrs. Sally J. DePaoli wrote in a 1973 issue of the paper, "Statistics are great on the record sheets, and under normal conditions could be construed to predict a winner, but it's PRIDE and SPIRIT… human electricity that generates within each team and throughout the stadium the emotional catalysts that defy predictability. It's the Porterville-Monache game."
This year "The Granite Bowl" will be Friday, October 28th, at 6:30 pm at Rankin Stadium. PHS is the Home Team and currently holds "The Rock". This season the Varsity team goes into the game with a record of 8-1 while Monache has a record of  2-7, however, Monache leads the bowl series with a 31-20-1 record. Tickets can be purchased at the gate, or in advance at GoFan.Co